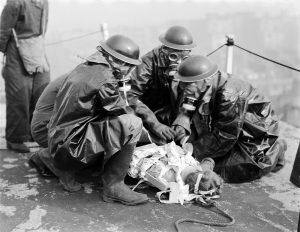 First aid is a broad term encompassing activities from applying a sticking plaster, to preparing for and managing the effects of war. We are focussing on the initial treatment of minor injuries and techniques for basic life support undertaken by people other than recognized medical professionals. A major focus for our research is the first aid activity and the diffusion of first aid knowledge conducted by the British Red Cross and St John Ambulance. The typicality of the British experience is considered through an examination of the development of first aid in France. Our hypothesis is that in comparison to England, there has been a greater level of state intervention in the oversight of first aid providers in France, and priorities have been strongly influenced by the experience of war and invasion.
Crossing Boundaries: The History of First Aid in Britain and France, 1909-1989 is supported by the Arts & Humanities Research Council (Grant Number AH/N003330/1).
The Arts and Humanities Research Council (AHRC) funds world-class, independent researchers in a wide range of subjects: history, archaeology, digital content, philosophy, languages, design, heritage, area studies, the creative and performing arts, and much more. This financial year the AHRC will spend approximately £98 million to fund research and postgraduate training, in collaboration with a number of partners. The quality and range of research supported by this investment of public funds not only provides social and cultural benefits and contributes to the economic success of the UK but also to the culture and welfare of societies around the globe.
Visit the AHRC website at: ahrc.ukri.org.
Image credits: First Aid wheel chart showing the correct procedures for various accidents such as simple fractures, burns, sprains and haemorrage.{' '} Credit: Wellcome Collection. CC BY; Air raid precaution. Practice, first aid party at work. Credit: Wellcome Collection. CC BY